[GameLookspecialmanuscriptnoreprintwithoutauthorization!】
GameLook report/In the stock market stage of "getting out without going to sea", overseas revenue is becoming more and more important for Chinese game developers. In addition to the Asian and North American markets that have been explored by a large number of peers, the European game market also There are huge opportunities lurking.
According to the 2021 European Game Industry Report jointly released by the European Interactive Software Federation (ISFE) and the European Developers Federation (EGDF), in 2020, European game revenue will exceed 23 billion euros (equivalent to RMB 177.5 billion), a year-on-year increase of 22%. Exceeds the increase in the previous three years.
The report pointed out that 44% of European game revenue comes from console games, mobile games account for 40%, PC games account for 14%, and the proportion of digital games revenue in the European market is increasing.
The following is the complete content compiled by GameLook:
1. A huge market of 23 billion euros
In 2020, the outbreak of the COVID-19 epidemic has allowed more people around the world to devote their time to games, which has also promoted the rapid growth of the global game market, and the European market is no exception. During 2020, the European game market revenue was 23 billion euros, a year-on-year increase of 22%. Compared with the 3% increase in 2019, the gap is particularly obvious.
From a regional perspective, the five major European markets (France, Germany, Italy, the United Kingdom, and Spain) account for about 59% of the European gaming market's revenue share, reaching 17.6 billion euros.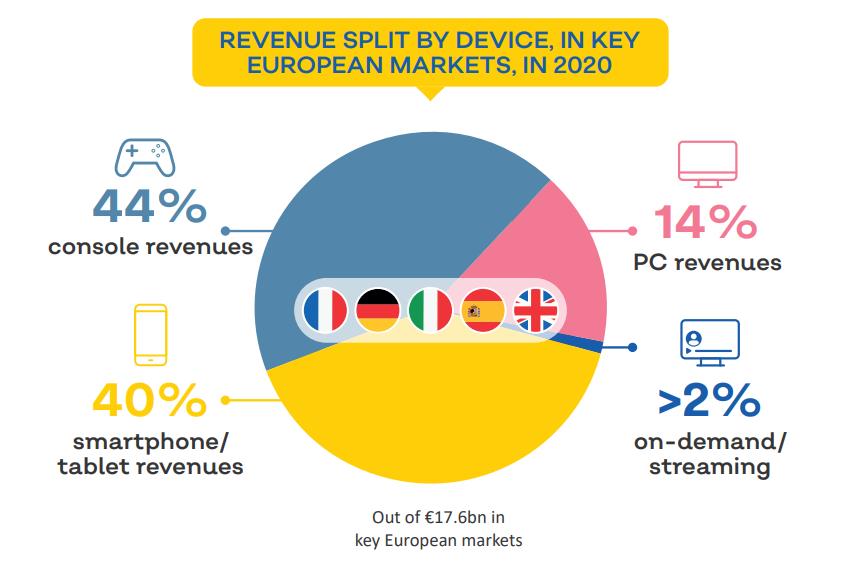 From the platform point of view, the host is the favorite gaming device of European players, followed by mobile devices. The report shows that among the total revenue of these five major markets, 44% comes from console games, 40% comes from smartphones and tablets, 14% comes from PC games, and about 2% comes from on-demand and streaming services.
Despite its low share, European streaming media service revenue also increased from 341 million euros to 397 million euros, a year-on-year increase of 16.5%.
In terms of revenue sources, 40% of revenue comes from online downloads, another 40% comes from app revenue and in-app purchases, and the remaining 20% ​​comes from physical sales, such as boxed games. Digital game revenue increased by 31% year-on-year to 14 billion euros.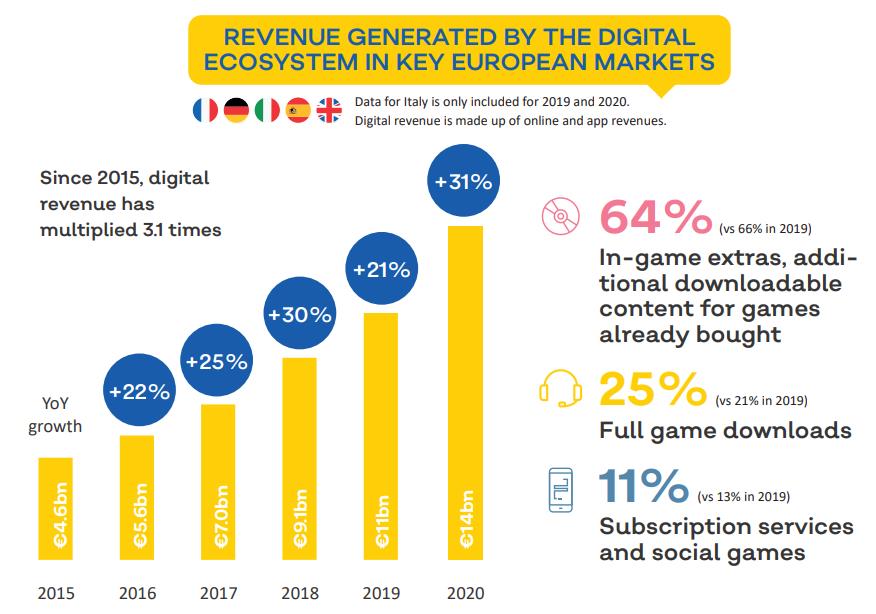 According to the report, the revenue share of digital games in the European game market has increased year by year, and has grown more than three times since 2015.
The field of e-sports will also continue to grow. Global e-sports revenue is expected to increase from 947 million euros in 2020 to 1 billion euros in 2021, and the global e-sports user base will increase from 436 million in 2020 to 474 million in 2021. , In addition, there is not much difference between the ratio of enthusiasts and occasional viewers among e-sports users.
There are 92 million European e-sports users, of which male users account for 66%.5 most popular e-sports games in EuropeThey are: "League of Legends", "CSGO", "Overwatch", "Call of Duty" and "Varoland Continent".
The 9 best-selling games in Europe in 2020In order: "FIFA 21", "GTA 5", "FIFA 20", "Call of Duty Black Ops Cold War", "Friends of Animal Crossing", "Rainbow Six Siege", "Call of Duty Modern Warfare", "Assassin's Creed Heroes" Palace" and "Red Dead Redemption 2".
In terms of employment, the number of employees in the European gaming market in 2019 was 86,953, compared with 77,916. However, among this group of practitioners, only 20% are women. For comparison, 47% of gamers in Europe are women, which is an increase from 45% in 2019.
In 2021, ISFE and EGDF established the Diversity Working Group to improve the future gender balance of the European game market. The partners include Women in Games, Raise The Game, Diversi, AEVI and Hier Spielt Vielfalt.
2. European gamers you didn't know
European gamers may not be the same as European and American players imagined by many people. For example, the proportion of European gamers in the total population is lower than that of the United States.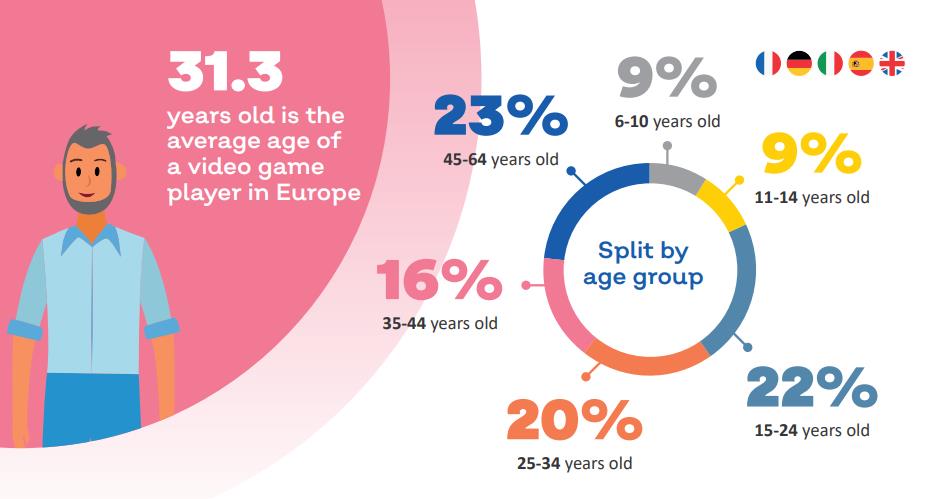 The report shows that 50% of the 5-64-year-olds of the European population are gamers. From the perspective of age, the average age of European gamers is 31.3 years old, and the proportion of middle-aged and elderly gamers is quite high. For example, 23% of gamers are 45-64 years old, and 42% of gamers are 15-34 years old. Users aged 35-44 also account for 16%.
Teenagers under the age of 14 account for an extremely low proportion of gamers, and users aged 6-14 together account for only 18%.
In addition, from the perspective of age grouping, the proportion of game players among middle-aged and elderly users is relatively low. For example, the proportion of young players over 35 years old is less than 45%. And players under the age of 34 accounted for more than 60%.
However, compared with 2019, the proportion of players under the age of 25 has declined, with only a slight increase in the proportion of players in the 25-34 year-old population.
In terms of user engagement, European players spend an average of 9.5 hours of gaming per week.
From the perspective of game platforms, 60% of players are playing games on smartphones or tablets. The average age of these players is 26 years old; 54% of players play games on console platforms, with an average age of 32.4 years old; 49% of players are playing games on the console platform. The average age of playing games on PC devices is 30 years old.
European gamers have a high degree of participation, with 76% of players investing at least one hour a week. However, on average, Europeans spend less time in games per week than watching TV (23.5 hours) and social networking (14 hours).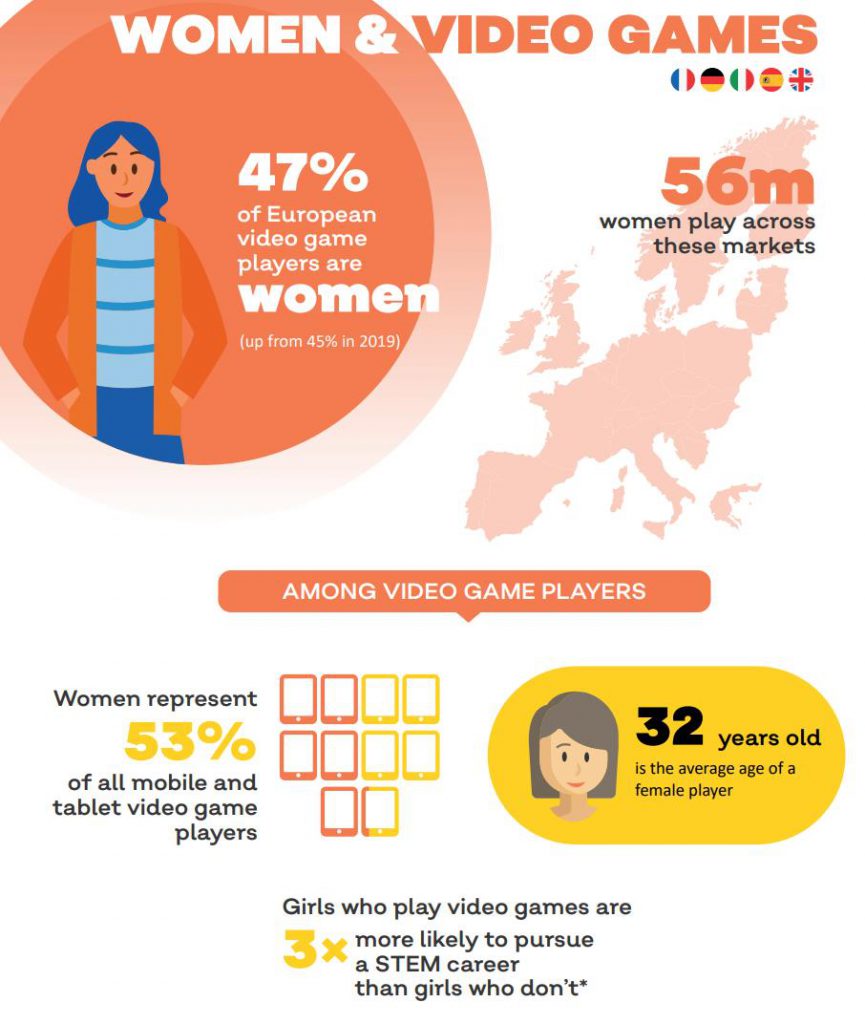 In terms of gender, 56 million European gamers are women, accounting for 47%, with an average age of 32 years old; on mobile game platforms, European female gamers account for 53%.
3. Game regulation and social responsibility: the world sees the power of games for good
Corresponding to the US ESRB, the main rating standard for the European game industry is PEGI (European Game Rating System). Its purpose is to let consumers, especially parents, understand the game ratings to protect minors from improper game content.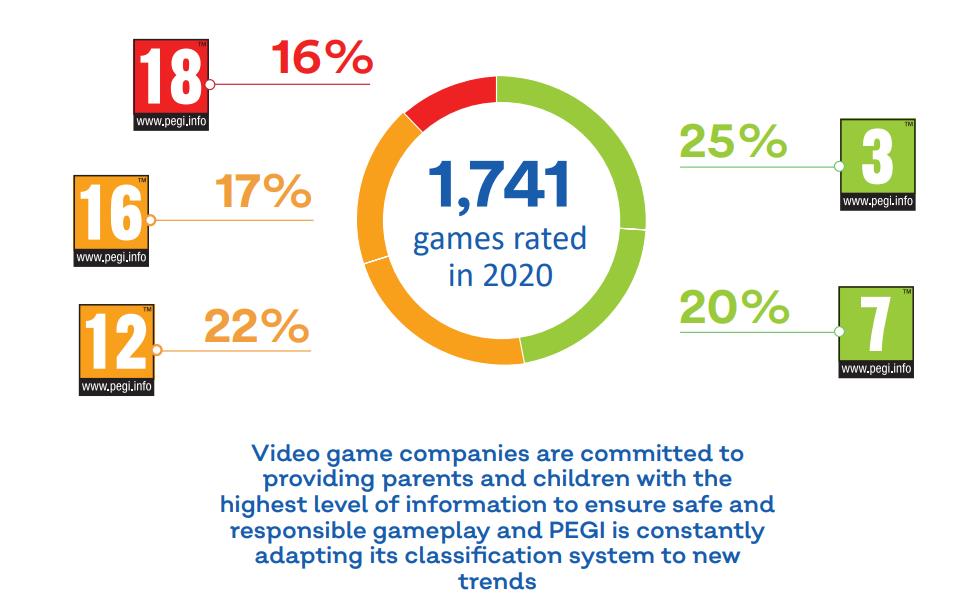 Statistics show that among the 1,741 games that have passed the standard review in 2020, only 16% of games have an age limit of over 18, 55% of games over 12 years old, and games under 7 years of age limit. 20%, and the proportion of games under 3 years old has reached 25%.
Judging from the report's survey results, more than 60% of the parents surveyed are aware of the PEGI analysis system, believe that the grading standard is clear for the content display, and believe that the PEGI grading is useful for deciding to buy games.
In addition, parental supervision has achieved good results in Europe. The survey shows that two-thirds of parents do not allow their children to spend in games, 80% of parents have reached a game time control agreement with their children, and 97% of parents manage or monitor their children's spending in games.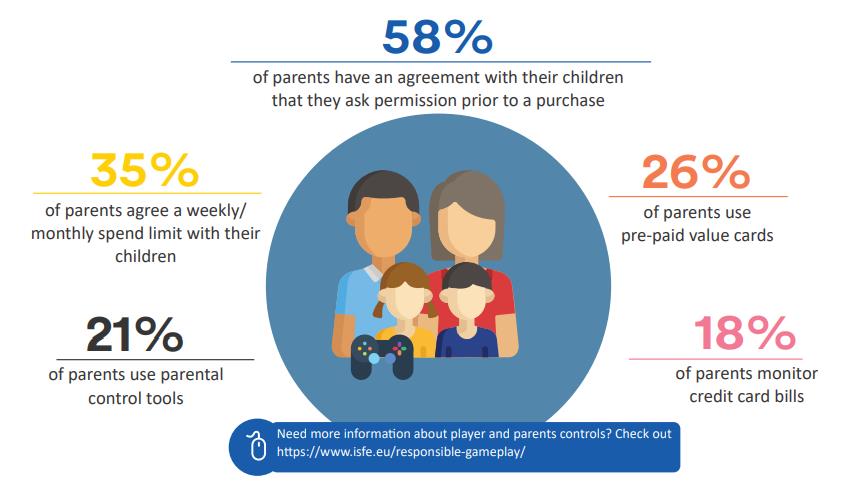 For example, 58% of parents require their children to get permission before paying, 35% of parents agree to spend a certain amount of time with their children every week/month to play games, 26% of parents use prepaid bank cards, and 21% of parents use parental control tools. , And 18% of parents often monitor credit card bills to prevent children from spending indiscriminately in the game.
In addition to the self-disciplined PEGI grading system, the gaming industry also provides parents with a variety of tools to monitor their children's behavior in playing video games. For example, every gaming device can actually be set with parental control tools.
In terms of game duration, the game duration of players during the epidemic has increased significantly, but has declined after social isolation.
The report pointed out that during the outbreak of the epidemic, the industry allowed the world to see the power of games for good. For example, many people used games to exercise and study during this period. ISFE Chairman Dr. Olaf Coenen and EGDF President Hendrik Lesser mentioned in the opening speeches of the report:
"Although we have encountered struggles and personal losses in this short period of time, the game industry has still brought support to society in a variety of ways during the epidemic. We have connected the people who separated the two places and provided an entertainment experience for the players. Maintain mental and physical health, support education, increase the impact in the field of public health, and financially support epidemic prevention. We also found that during the epidemic, more parents and children played games together, allowing the world to see the benefits of games for good Strength. In the end, we overcame the limitations of remote work, recruitment issues, delayed releases, new game development and reduction of release funds, and made due contributions to society."
They also said that with the growth of the game industry, more and more game companies have begun to take on the social responsibility of protecting teenagers and minors. With the necessary political and competitive support, the game industry can bring about economic recovery in Europe. Greater contributions will bring greater contributions to the innovation, creativity, employment and prosperity of the European digital economy.
In 2020, the Polish government and the Belgian Flanders region will also become the first European regions to add games to mainstream education.
This Article is curated from Source and we only provide the English version of the Story.