Last Updated:
Last week, Intel finally launched one of its Alchemist GPUs with the Arc A380. As a China-exclusive there was also an embargo on the reviews coming out. But now we have a review and benchmark from Shenmedounengc on Billibilli. Gives us some real-world tests for the performance rather than just synthetics.
So far the only custom card is the GUNNIR A380 Photon GPU which is the one being reviewed. Although none of the options are yet available for sale for this SKU Intel does have an asking price of 1030 CNY. Whilst likely to offer the graphics card with OEMs in prebuilt systems, we still see what to expect in terms of performance.
Intel Arc A380 benchmarks
The test setup used by Shenmedounengce is a mid-range Intel Alder Lake system. It contains an Intel Core i5-12400 CPU, in a TUF B660M motherboard, with two 8 GB DDR4 3200 memory. Whilst the A380 is made with the full ACM-G11 GPU with eight Xe-Cores, 6 GB of GDDR6 memory with a 96-bit bus. With a clock rate of 2.45 GHz boost for the GPU and 15.5 Gbps for the VRAM.
Throughout the testing, it is compared to the GTX 1650, RX 6400, and the GTX 1650 and RX 6500 XT as well in synthetics. That's where we find the Arc A380 takes the lead over the other lower-end offerings. With a score of 947 in Port Royal compared to 552 and 575 achieved by the RX 6400 and RX 6500 XT. Whereas the GTX 1650 is unable to achieve a score without RTX and the RTX 3050 gets 3,534. In TimeSpy the A380 achieves a score of 5,170 with the 1650 getting 3,620, the RX 6400 achieving 3,650, the RX 6500 XT improving slightly to 4,773, and the RTX 3050 winning with 6,250.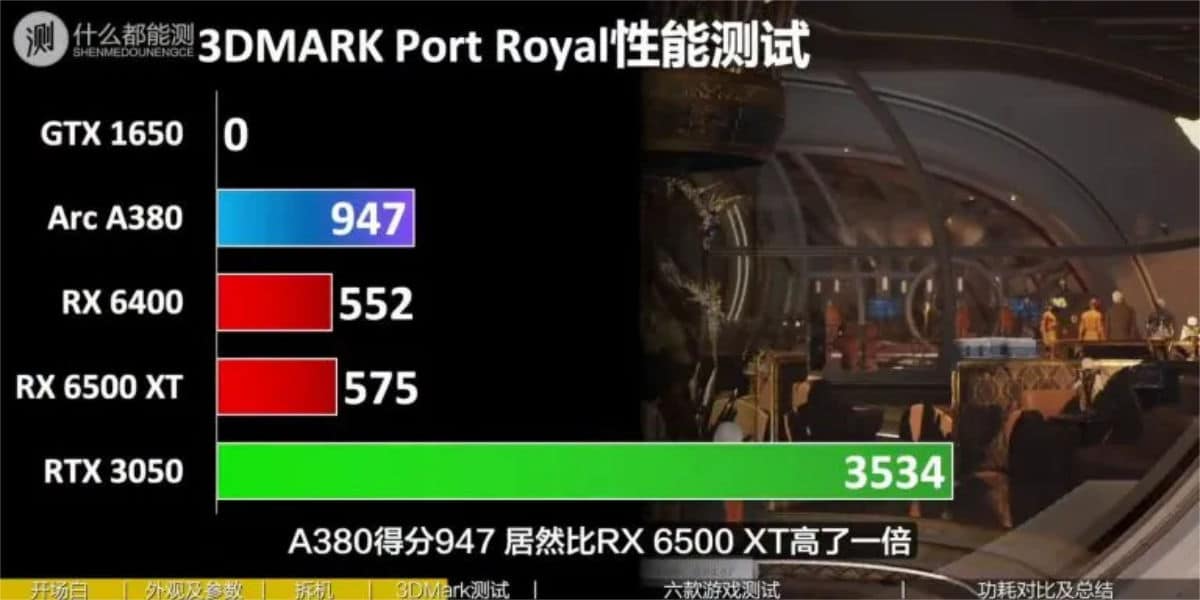 Although in gaming benchmarks the leaderboard changes. With the Arc A380 now falling behind the rest of the low-end offerings. With the tests featuring the more popular titles for the market and AAA features, we see League of Legends, PUBG, GTA 5, Tomb Raider, Forza Horizon 5, and Red Dead Redemption II. With the performance, all tested at 1080p we see the card lack behind the other offerings.