Mehul Reuben DasMar 07, 2023 20:09:33 IST
Small form factor PCs, or NUCs for those of you who are heavily invested in the Intel ecosystem became immensely popular during the pandemic and has grown substantially over the last year.
With a booming gaming industry and creator economy in India, Intel hopes to capitalise on a growing market with the launch of their NUC 13 series and go after enthusiasts and hardcore power users such as gamers and content creators.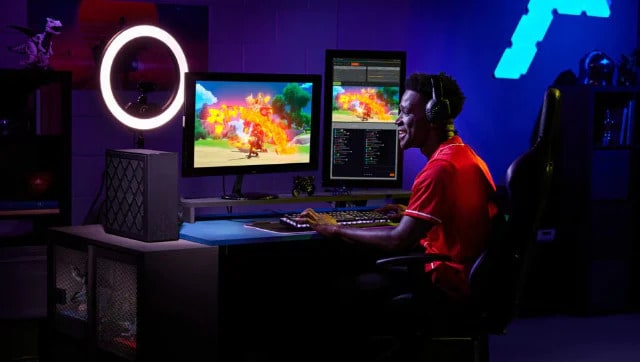 We had a little chat with Faisal Habib, Enthusiast Marketing Director, at Intel, to get some insights into the Indian gamer's fascination with small form factor PCs, how the enthusiast segment is shaping up to be in India, and what direction will enthusiasts take the gaming industry towards. Edited excerpts:
Intel's NUCs started out as these very small form factor PCs that packed a very powerful punch, but over the years we have seen them grow larger. Is it because of GPUs?
The growth of the NUC Extreme product lineup has been a mix of directions related to increasing CPU capabilities and increasing GPU sizes. While we do not comment on unannounced and unreleased products it is worth the reference that we are very familiar with how the market is trending in power/performance.
From NUC 9 Extreme to NUC 13 Extreme and everything in between, each was a pursuit of increasing capabilities and performance.
Our strategic direction continues to be focused on delivering the best performance per litre. We adjusted form factors to accommodate that goal keeping in mind the increased GPU sizes and CPU capabilities.
We are continuously exploring how we innovate to deliver that goal in every generation, and we continue to see significant opportunities in driving form factor innovation in this space.
The trend across the industry is to go for smaller and more efficient components, but GPUs on the other hand, is only getting bigger. Will we see desktop GPUs getting smaller as they grow more powerful and efficient, or will we continue to see them getting even bigger?
It is difficult to tell what the future holds for GPU designs, but what we aim to achieve with the design of every NUC is to offer the consumers what they want.
With the NUC 13 Extreme, for example, we increased the size of the chassis to accommodate a full-size, triple-slot GPU in order to cater to the high-end, enthusiast market. If GPUs get more powerful and shrink in size in the future, I'm sure our products would adjust accordingly.
In most prebuilt, small form factor systems, the idea is to go for soldered components, especially when we speak of RAM and the CPU. For the 12th Gen NUC as well as for Raptor Canyon NUCs, Intel has gone for socketed CPUs. What was the reason behind that? Was user-upgradability a factor that was considered?
With our Intel NUC 12 Extreme and the latest NUC 13 Extreme, we've chosen to go with socketed CPUs in order to meet the needs of some of our most demanding consumers.
For them peak performance is everything and that's where our desktop CPUs deliver on that promise. However, this isn't us moving away from the traditional soldered components. We still have other NUC products, like the NUC 12 Enthusiast for example which uses a mobile processor that soldered onto the board.
However, regardless of the NUC product, user upgradability is always a consideration, and we try to offer that by making the RAM and storage upgradeable.
Small form factor PCs have often fallen victim to louder fan noise, mainly because of thermals. How did Intel manage thermals and fan noise with the chassis of the 13th Gen NUCs?
Thermal designs are always evaluated on noise vs performance, with Raptor Canyon we learned that providing what can be compared to an open-air test bench has done an amazing job of keeping thermals and noise lower than previous designs. And we've managed to deliver this while also building a mesh into the chassis to minimize dust.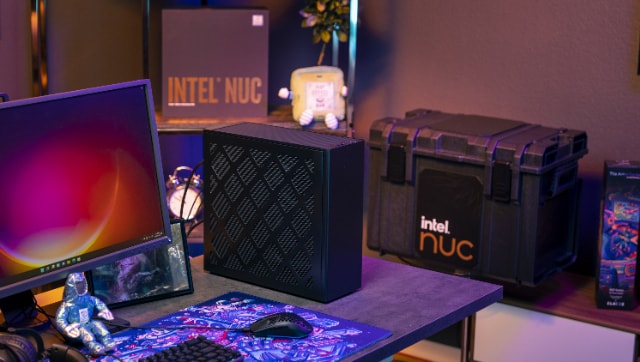 Southeast Asia, especially India has a very small enthusiast community and an even smaller DIY community. Is Intel doing something to address that and help grow the enthusiast and DIY market?
The gaming market has been mostly growing and there's also been steady growth in general for smaller form-factors. We plan to continue to innovate and bring new products to market with this trajectory in-mind.
Who, according to you, is the Raptor Canyon NUC best suited for, what sort of PC user or PC enthusiast should consider the Raptor Canyon NUC?
Over the generations we have witnessed quite a few use cases for the NUC including segments like Robotics and Edge IoT. Our gaming NUCs are perfect for people who are looking for small factor gaming PC's that pack a punch.
Packing the portability of a laptop and the power of a desktop PC. So whether you're a gamer or a content creator, as long as you're looking for big performance in a small package, the NUC 13 Extreme would be perfect for you.
What was the biggest challenge when designing the 13th, Gen NUCs? Were there any particular areas where your engineers had to focus more?
Targeting a power limit on the CPU of more than double the previous generation really took us back to the drawing board on system layout and thermal design. Keeping the system modular while also pushing the power envelope as high as we did was a challenge that we believe we met head-on with a great solution.
We also maintained a very easy integration process that can be completed in roughly 5 minutes and involving no more than 8 screws to install memory, storage, and GPU.
If I were to max out my 13th Gen NUC, what sort of top-of-the-line configuration would I be looking at?
The Intel NUC 13 Extreme can be configured with up to an Intel Core i9-13900 processor, 2x32GB DDR5-5600 SODIMMs, a 2TB NVMe Gen4 driver per slot and up to an Nvidia GeForce RTX 4080FE.