The first review ever published to Techgage was of Logitech's RumblePad 2, in 2005. At the time, great gamepad solutions for the PC didn't seem to exist, but that option bucked the trend. Later that year, Microsoft released its Xbox 360, and soon after, its gamepad became the de facto standard for PC gamers, thanks in large part to the company actually offering a Windows driver for it.
Since the Xbox 360's release, you could be confident that its gamepad button scheme would be supported by any new controller-enabled PC game. Sony's DualShock has had a rough life on PC over the years, but today, the latest pads can be used via Bluetooth natively. Still, it's hard to beat having that Xbox button scheme, given the developer love it's had over the years.
That brings us to SteelSeries' Stratus Duo, a gamepad that happens to adopt the Xbox button scheme, as well as offer support for not just Bluetooth, but 2.4GHz wireless. It also supports Android, though it's fair to note that both the latest Xbox and DualShock gamepads do, too.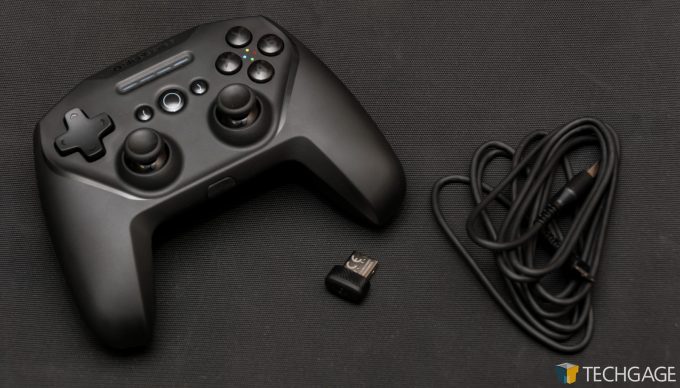 While I've been happy enough with my Xbox One gamepad for both PC and emulator gaming, I've noticed some big downsides to using Bluetooth over wired, in particular with games that require pinpoint control (eg: Trackmania 2, Trials Rising). When I saw that SteelSeries' latest gamepad looked the part, and supported 2.4GHz, I knew I had to give it a try, and see how it compared to the others on-hand.
After picking up the Stratus Duo for the first time, I immediately noticed how well-built it felt. It's not that I expected it to feel cheap, but having used so many gamepads over the years, I was pleased with the quality that was delivered. Everything on the gamepad feels good. Neither the SHIELD TV nor DualShock 4 controller give me the same level of satisfaction, but that's not to say they're built any more poorly.
While the Stratus Duo uses an Xbox button scheme, the actual layout changes the arrangement of the analog sticks. I had wondered if moving the analog stick down to where the D-Pad usually is would screw with my muscle memory, but not so. It may help that I spent an obscene number of hours in Destiny on PlayStation with the DualShock 4, which places the sticks in the same location (the same goes for the SHIELD).
Aside from that change, the controller will behave exactly like an Xbox gamepad would. The center button can be pressed to mimic the action of the Xbox button, while the buttons on either side of that one act as Menu and Start. At the back, satisfying triggers can be found along with a handful of buttons. Thankfully, switching between 2.4GHz and Bluetooth wireless is a simple matter of flicking the switch. Pairing is also made simple thanks to a dedicated button.
The Stratus Duo shows its battery-life through the use of the four LEDs on the gamepad's face. When you first turn the gamepad on, any number of these will light up, reflecting how much battery you have left. I've never had the gamepad die on me while using it, thanks to being pretty on top of charging when I catch it at half-full. I am really not sure how much battery-life this pad offers (SteelSeries claims 20+ hours), but it feels like you could play it literally all day and be fine.
Using the Stratus Duo
Connecting the Stratus Duo via either of the wireless options is a simple affair. For Bluetooth, you have to turn the unit on, and then hit the pairing button to reveal it in a scan. For 2.4GHz, it's simpler: just plug the USB adapter in and wait a few moments. Over the dozens of hours I put into this gamepad, I can say that it's never given me a connection problem; it's been rock-solid.
On the topic of the connection, though, it's worth noting that SteelSeries has done great work with regards to battery-life management. When I mentioned above about not having the gamepad die on me while using it, that's even after I accidentally left the gamepad kicking around, turned on, for over a week. Despite doing that, the gamepad reacted to its lack of use by essentially keeping itself turned off… even though it was ready to go.
I first noticed this when playing Forza Horizon 4, because as I turned away from the PC to attend to a benchmarking rig, the game would tell me that the gamepad was disconnected. Simply hitting a button brought the gamepad back to life, and I was on my way. This sounds like an annoying thing to happen, but when it improves battery-life as it does, I'd argue it's worth it. I should also stress that despite having that behavior hit me often, it never felt like a nuisance, and not once did it happen when it shouldn't have.
One thing that makes the Stratus Duo so alluring to me is that it offers an add-on SmartGrip (sold separately) that allows you to use the gamepad as you would an advanced mobile gaming device (like my old favorite, NVIDIA SHIELD portable). Your phone will be held in place with an adjustable slider. It doesn't matter if you have a smaller phone, or a huge one; it should fit no problem. Exceptions might be phones with super-thick cases, such as those offered by OtterBox.
I love the SmartGrip quite a bit, but I'm not sure I'd call it perfect. Getting it configured the first time felt complicated, but once you understand which parts to move, it'll never be a problem after the first time. There is still a caveat to be aware of, though: you need to make sure the gamepad is turned on before you attach the SmartGrip, else you may have a hard time pushing the power button. I found myself on multiple occasions having to remove the grip to fix that issue, though it's admittedly a five-second job.
There are two niggles I can speak of with this gamepad that stand out to me, with one likely being specific to my review unit. The left trigger on my unit sticks ever so slightly; not enough to affect my gameplay in any way, but enough to be noticeable when the other one is presses so silky smooth. Fortunately, I was told that the issue has been identified, and will not be present on retail units.
The other thing is a design cue I don't quite understand. When you are connected to your 2.4GHz connection, the Stratus Duo will light up the first of its four lights, showing that controller #1 is connected. When connected to Bluetooth, all four lights blink every 2 seconds. Despite the lights being beneath the screen, the issue never stood out to me until I decided to play some games on a recent red-eye flight, where the dark cabin made the blinking a lot more noticeable. I'd love it if SteelSeries released a firmware update that would make the Bluetooth connection lights behave like they do with 2.4GHz. Blinking as it does should only happen if the gamepad is low on battery, as far as I am concerned.
Final Thoughts
SteelSeries is pricing its Stratus Duo at $59.99, which matches the base versions of both the Xbox One and DualShock 4 gamepads. All of them work on PC and Android, but SteelSeries adds the ability to use the SmartGrip accessory to turn your phone into an advanced mobile gaming platform, while the 2.4GHz adapter gives you a super-fast connection suitable for competitive play.
The inclusion of the 2.4GHz wireless makes the Duo priced well against its competition, as getting 2.4GHz on the others will require an extra purchase. For me in Canada, the 2.4GHz dongle for Xbox One gamepads costs as much as a gamepad itself, so to get this connectivity right in the box is excellent.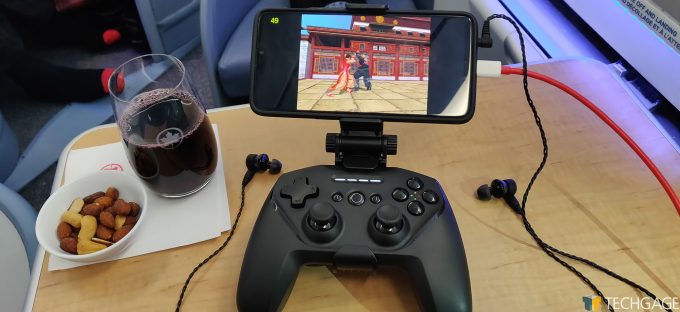 You might not think there is a big difference between 2.4GHz wireless and Bluetooth until you spend good time with both. As mentioned above, I played certain control-sensitive games with Bluetooth that quickly forced me to plug a cable in, whereas I've never had an issue using the 2.4GHz wireless with the Stratus Duo.
As for Bluetooth, I've only ever used it for mobile games, where it's much harder to notice super-subtle lag, but it too has been solid. SteelSeries promotes Fortnite play on Android with this gamepad, so it's certainly sufficient enough. I've only used it for emulators on Android, and have had no issues whatsoever.
My biggest beef with the Stratus Duo is that all of the lights blink too frequently when connected via Bluetooth, and it's a quirk I hope is fixed in a future firmware update (and if so, I will update this part of the review.)
To prove how much I like this gamepad, I have simply not bothered with the Xbox One gamepad, even wired, since receiving the Stratus Duo. I like being able to use the same gamepad for both Android and PC, with both being instantly accessible with the flick of a switch. I can see both my PC and SHIELD TV screens at the same time, and so having one pad for both is great – especially when I don't need to sacrifice wireless performance on the PC.
Pros
2.4GHz adapter included in the box.
Battery saving mechanism works very well.
Fully charged, this gamepad offers enough juice to last multiple game-heavy days.
Well-built, sturdy. Buttons and triggers feel good.
SmartGrip accessory turns your phone into an advanced mobile gaming platform.
Setup is very easy, for either PC or Android, 2.4GHz or Bluetooth.
Cons
LED lights blink too frequently when connected to Bluetooth.
SteelSeries Stratus Duo Wireless Gamepad