The Samsung Q90A is an astonishing 4K TV with gaming chops, incredibly vivid colors and deeper blacks than you would expect outside of an OLED. The NEO QLED TVs use mini-LED technology to display dramatically vivid colors and deep blacks that are traditionally difficult to deliver with LEDs.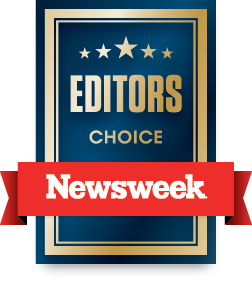 I tested the Samsung Q90A 65-inch model, which is available for pre-order from Samsung for $2,599. The 55-inch Q90A is $1,799, and you can also get a 75-inch or 85-inch size.
The combination of mini-LED and the Neo Quantum Processor delivers one of the best-looking TVs I've seen in 2021.
In addition to a great picture, excellent upscaling of HD content to 4K and auto game mode the TV delivers a fast, smart-TV experience with support for most of my favorite apps and includes AirPlay 2 support for mirroring. The Ambient Mode is also a really cool feature that is more than just a bullet point on a spec sheet.
Display and Performance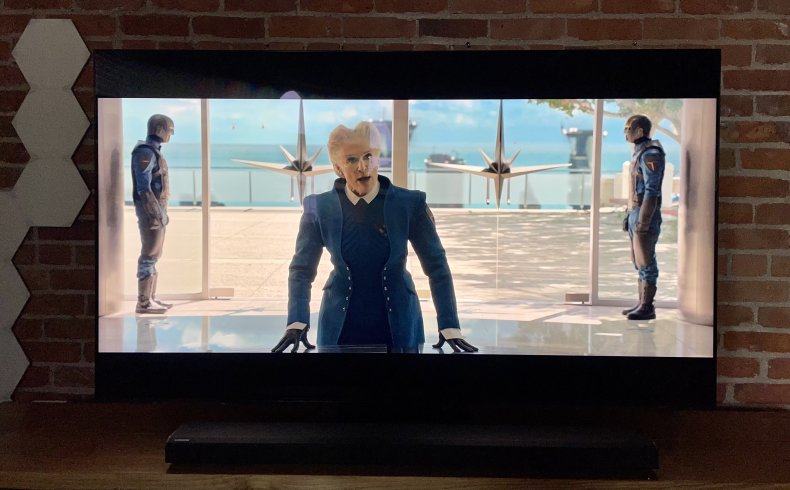 The Samsung Q90A is at the top of Samsung's 4K TV lineup for a reason. It's incredibly bright, with especially vivid colors that come through while bingeing Marvel movies and playing WatchDogs Legion on the Xbox Series X.
The mini-LED technology allows Samsung to push incredible brightness where needed and be much more targeted with where the brightness ends, and the darkness begins. OLED still maintains a slight edge here, on the high-end models, but Samsung's mini-LED technology delivers an excellent 4K TV option.
In the living room, this means that you'll enjoy a beautiful image that mixes brights and darks without turning the dark parts of a scene into a wash of grays. I was impressed with the ability of the Q90A to show superbright scenes with accurate colors and deep blacks.
The TV handles newer, 4K content, like Guardians of the Galaxy 2 and John Wick 3, with ease. The set also shines with excellent upscaling to make HD content streamed from Amazon Prime Video, Netflix or Apple TV look great.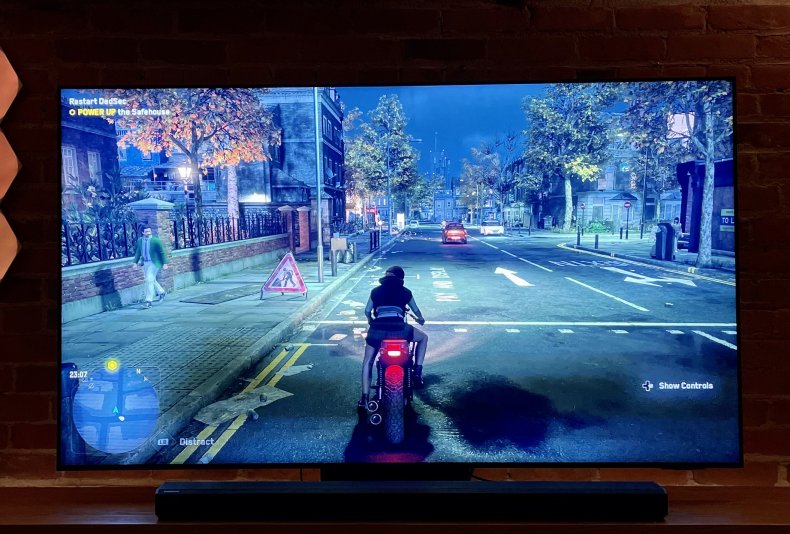 Gaming on the Samsung Q90A with the PS5 and the Xbox Series X feels like a serious upgrade. I love that the TV knows the game console I'm using and that it can automatically adjust the gaming settings to the best options. This makes it easier to jump into a gaming session after watching a movie or bingeing a show. The brightness really shines here, and the quality is wonderful. The TV is capable of supporting 4K gaming at 120 frames per second. With a low input lag, variable response rate and an Automatic Low Latency Mode (ALLM), you get one of the best experiences on a new console. Samsung also supports a super ultrawide game view if you connect a gaming PC to the set.
Viewing angles are quite good, and the anti-reflection technology proved quite useful in my test room, which is lined with six large windows.
The TV's built-in speakers are satisfactory, especially if you use the Amplify mode while watching scenes with lots of dialogue, but ultimately you should look into a soundbar. I'm a huge fan of the Q Harmony feature that mixes the audio from the TV speakers and the soundbar.
Design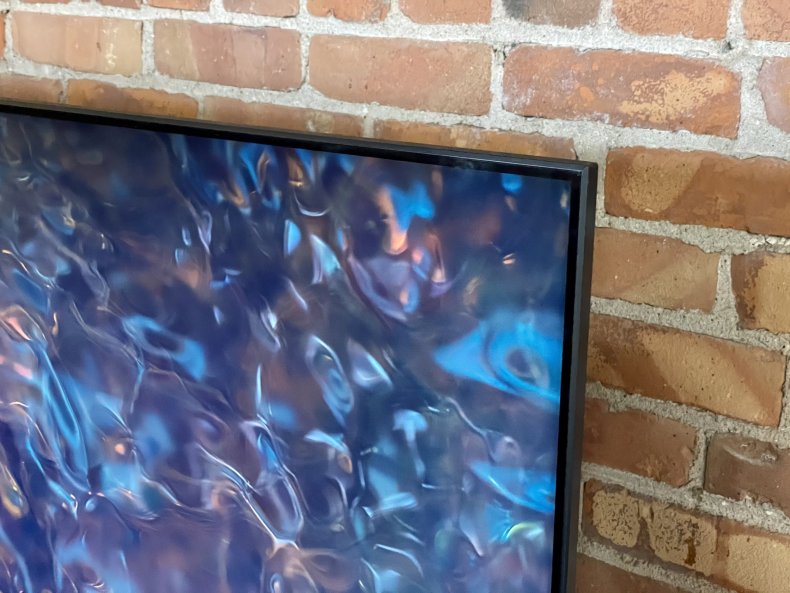 The TV is slim, and the stand is a simple pedestal that fits in with the decor in any room.
I'm a fan of the center stand: It simplifies placing a TV on a stand that isn't too deep. The black finish blends nicely from the side. There isn't a lot of built-in cable management to the back of the TV or the stand.
The TV design fades away as you watch thanks to thin bezels and a minimalist stand. Wall mounting the TV is a nice option, especially if you plan to pair it with the Ambient Mode that lets you highlight your photos, choose a mood visualizer or display art.
The Samsung remote control is easy to use, and it recharges with a solar panel on the back, or by plugging in with USB-C. Though it isn't backlit, which would be a nice touch.
Smart TV
The Samsung Smart TV software is very fast, packs an array of excellent features and includes support for AirPlay mirroring.
The Samsung Smart TV interface sits at the bottom of the TV, where it offers access to commonly used apps. If you connect a PS5 or Xbox Series X, you'll also see them show up in the app section.
Samsung TV Plus is a free TV streaming service built into the TV. It includes 150 channels with a variety of shows and movies. It's not going to replace your streaming app subscriptions, but it might just fulfill your channel surfing needs.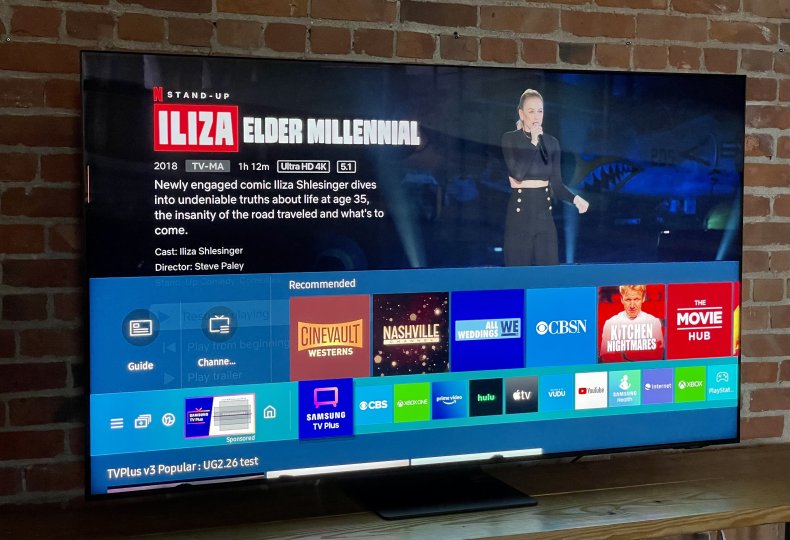 I tested the Apple TV app to watch content in my library, and it worked easily. AirPlay allowed me to show what was on my iPhone or iPad on the big screen quickly. There is no support for Apple HomeKit, so you can't tie it into your smart home setup on the Apple side of things like you can with a Vizio and LG. If you own a Samsung Galaxy device, you can tap it on the screen to mirror and continue watching.
Multiview is a handy feature that allows you to see up to four inputs on the screen at once. This also includes the ability to put content from your phone on the screen. It's handy for watching sports and seeing stats on the side, and if you need a guide for a video game, you can put it up on the screen.
The Ambient Mode allowed me to set a mood and turn the TV into a fun display while I was working around the house. You can choose from a mix of visual and audio experiences.
Samsung even includes support for video chatting, with a webcam plugged in, or for turning your TV into a fitness companion with apps and a webcam. These aren't features I tested, but they are nice additions in our current workout-at-home environment.
Is the Samsung Q90A Worth Buying?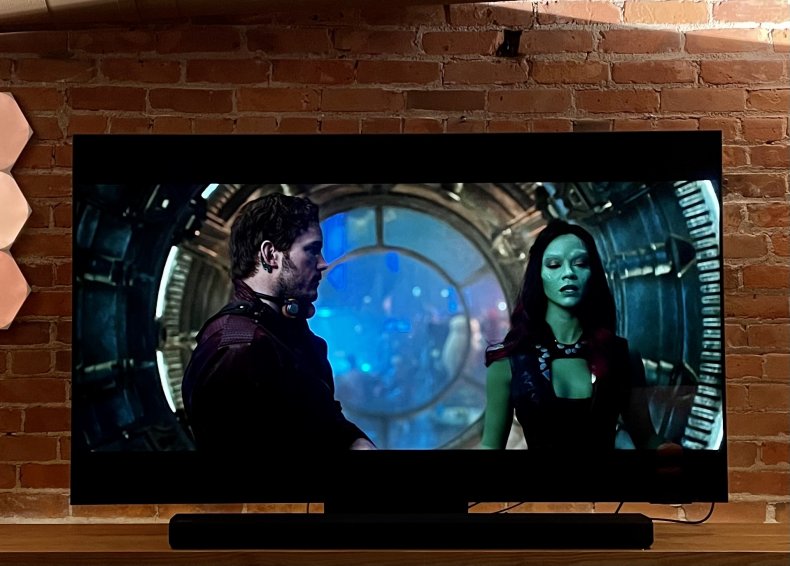 The Samsung Q90A is an excellent 4K TV. The switch to mini-LED technology pays off with exceptional brights, vivid colors and deep blacks that out-perform standard LED technology. There are still areas where high-end OLED displays stand out, but Samsung closes the gap.
There is a clear difference between lower-priced sets and models using standard LED backlighting. The Samsung Q90A is the best 4K TV I've tested in 2021. If you're looking for a new TV that can handle gaming and movie night, look great while doing it and offer up interesting extras for fitness or a video chat, this should be at the top of your list.
Buy the Samsung Q90A at Samsung.
Newsweek may earn a commission from links on this page, but we only recommend products we back. We participate in various affiliate marketing programs, which means we may get paid commissions on editorially chosen products purchased through our links to retailer sites.